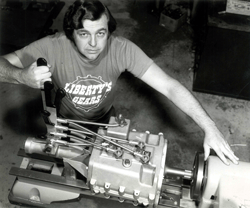 Joseph C. Liberty (pictured left) was born and raised in Detroit, so it is not surprising that he was employed with Cadillac Motor Car Division. Joe chose to pursue the tool and die trade, eventually becoming a full journey-man with a very broad technical and engineering back-ground. What spare time he had was devoted to working on hot cars, starting with a '55 Ford he ran in B or C stock. After several other cars, Joe finally settled on a C/altered '34 Ford Coupe.
When he first got the Coupe, Joe began experimenting with transmissions, trying every type available; standards, automatics, 3-speeds and 4-speeds. Like every-one else, Liberty slick-shifted his own gears, only to end up with shelves of gear sets without synchro rings. Using his tool and die knowledge of metal compositions, machining, tooling and parts assembly, Joe began development work on a new, super strong slick-shift type ring. Countless numbers of designs and metals were tried before Liberty felt he had a ring that would work. Once his design was complete, this new ring became known as "Liberty's Pro Ring" and was integrated into the company logo that is still used today.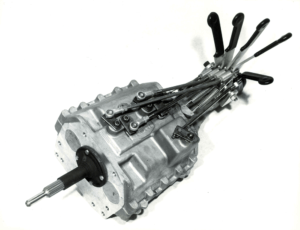 Word got around that Joe was on to something and he soon found himself processing the gear sets of friends with his new ring. The number of people wanting the Liberty ring soon surpassed Joe's work bench operation and a machine shop was set up to handle the increasing demand.
Liberty left Cadillac, after eighteen years, to form Liberty's High Performance Products, Inc. The reputation of Liberty rings became national, with many top name super stock, pro stock and eliminator drivers switching to Liberty processed transmissions. The popularity of Liberty Products was reflected in sales, which quadrupled in a little over a year from the launch of the company. The crowning touch was the granting of U.S. Patent No. 3739892 on the Liberty Pro Ring and process.
Growth again required a move to new quarters. Machining, processing and warehousing remained, with management and sales moved to new facilities. Joe personally ran all operations, frequently working into the night to make sure a racer received a gear set or just to chat with a customer about transmissions.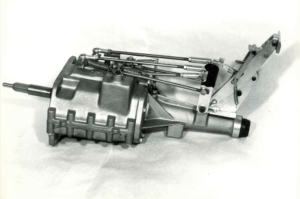 Joe had a firm belief in providing his customers with the highest quality components. His use of materials and machining methods ensured that Liberty customers were running the best transmissions.
Craig Liberty, Joe's son, starting working for the company in the early eighties. As time progressed, Craig became more involved with all operations of the company. In 1999, Joe officially retired. At that time, Craig took over as President of Liberty's High Performance Products, Inc. In addition to his responsibilities as President, Craig is the lead engineer at Liberty's. He personally oversees every project in the facility.
Liberty's has continued to grow year after year and the customer base has expanded globally. In 2015, in an effort to keep up with demand, Liberty's relocated to a larger facility. 2016 welcomed another member of the Liberty family. After graduating from the University of Michigan with a degree in Mechanical Engineering, Craig's daughter, Nicole Liberty joined the team as a Design Engineer.
Through all of the growth of the company, Liberty's has maintained its reputation as a manufacturer of superior products. Research and development are a cornerstone in the success of this company. Testing of materials, processes and heat treat methods are done constantly to aid Liberty's in manufacturing products that not only meet the needs of customers, but exceed the expectations of components in the most extreme applications.
This high level of quality that began in the 1960's has never been compromised and will continue to be the standard for years to come at Liberty's High Performance Products, Inc.